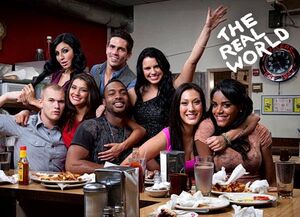 The Real World: Portland is the twenty-eighth season of MTV's reality television series The Real World, which focuses on a group of diverse strangers living together for several months in a different city each season, as cameras document their lives and interpersonal relationships. Portland, Oregon was first reported as the location for the twenty-eighth season in a June 19, 2012 article on the website Byronbeck.com. MTV Head of Programming David Janollari confirmed that Portland would be the location for the twenty-eighth season on August 3, 2012, at the annual Television Critics Association Press Tour.
This is the second season of The Real World to be filmed in the Pacific Northwest, after The Real World: Seattle, which aired in 1998. Production started in mid-2012, and the season premiered on March 27, 2013.
Olympic snowboarder Danny Kass makes a guest appearance in Episode 5.
Assignment
Edit
Most seasons of The Real World since the fifth season have included the assignment of a season-long group job or task to the housemates, continued participation in which has been mandatory to remain part of the cast since the Back to New York season. However, no group assignment is given to the cast this season; the castmates are free to pursue their own interests, the first such season to do this since the Washington D.C. season. This season, cast members worked at two local eateries: a pizzeria/bar called Pizza Schmizza Pub & Grub and a yogurt shop called Cool Harry's.
The residence
Edit
The cast lived in a 20,000 square foot, two-story building at 338 NW 9th Avenue, at the corner of Northwest Flanders Street. Prior to being used as a the season's setting, the property was on sale for $3.25 million USD. While commercial tenants occupied a portion of the first floor, the 10,000 square foot second floor loft was renovated for filming, along with an additional 7,000 square feet used by the production staff, which leased the loft for six months. The loft was designed by Rick Gonzalez. Filming ended in October 2012. That same month, the property was contracted to Raymond Management Co., a Middleton, Wisconsin-based a hotel developer that planned to convert the site into an 220 room, eight-story hotel.
Although previous seasons have depicted cast members keeping pets while living in the season residence, this is the first season of the show in which a non-human is listed as a cast member at MTV.com and credited in the title sequence, a Chihuahua/Jack Russell mix named Daisy. The Real World's sister show, Road Rules, included a dog as part of the cast of its X-Treme season.
After filming
Edit
The Reunion
Edit
The Real World: Portland Reunion aired on June 12, 2013, following the season finale. It was hosted by The Real World: Back to New York alumna Coral Smith, and featured the entire cast, as they discussed their time during filming and their lives since the show ended.
Since filming ended, Jessica returned to North Carolina, where she enjoys ballroom dancing and plans to manage a nutrition shop, while Anastasia returned to Detroit, where she enjoys the music scene, plans to finish her bachelor's degree in broadcast journalism and is working on recording her album. Jordan returned to Oklahoma, where he mainly works for his father's construction company and enjoys the outdoors, while Nia returned to Atlanta, where she intends on finishing her book, and is working on a fitness product called "The Booty Belt" with her business partner, Dominic Banks. Marlon returned to Lubbock, Texas, where he hopes to start a clothing line, record an album and return to a fitness regimen. Averey initially returned to Arizona for two months prior to moving to Boston with Johnny, along with her dog Daisy. Averey stated that she regretted leaving her job as a Hooters waitress, but found a new occupation as a bartender in the Boston area, while also pursuing modeling as a hobby. Johnny returned to his restaurant job, while he also plays on a local hockey team and hopes to become a fitness trainer and a firefighter. Anastasia, Jessica, Jordan and Marlon each participated in The Challenge: Rivals II in Thailand after filming ended.
Among the topics discussed were the aftermath of the fight involving Nia, Johnny and Averey, with each roommate stating their own opinions as to whether or not Nia should have remained in the house, as well as the conflicts between Jordan and Nia, which resulted in a heated argument between Jordan and Anastasia, though Jordan and Nia made amends. Jessica's relationship with Tyler and Jordan's aggressive behavior were also discussed, and Anastasia revealed that she had a hidden crush on Jordan, despite having a boyfriend back home. Marlon and Anastasia discussed their personal struggles on the show, including Anastasia's struggle with her boyfriend's drug addiction as well as Marlon's insecurity over his Christianity and sexuality. Joi appeared during the reunion, and stated that her boyfriend's recuperation from surgery, more than her disappointment over her job prospects, was her main reason for leaving the show in the third episode.
External links
Edit
Community content is available under
CC-BY-SA
unless otherwise noted.